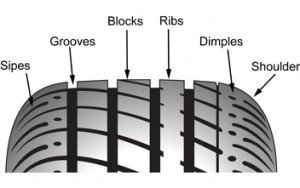 Tyres are first and only contact of your vehicle with the ground which enable the vehicle to move on road. Tyres are mounted on wheels.
It provides necessary traction between the road and vehicle. Apart from this it provides flexible cushion and also absorbs shock.  By this tyres provide you a smooth ride.
Tyres are made of Rubber (natural and synthetic).
There are more than 35 tyre companies in India.
Approx turnover of Indian tyre industry is 44500 crore, approx 2000 Lakh tyres are made per year.
Types of Tyres
Cross Ply or Bias Tyre
Radial (Construction) Tyre
Tubeless Tyre (Cross Ply)
Tubeless Tyre ( Radial Construction)
Run Flat (Puncture Proof) Tyre – New Concept
We have ATMA in India. Automotive Tyre Manufacturers Association.
Members of ATMA are:
 Apollo Tyres
 Birla Tyres
 Bridgestone Tyres

 CEAT Tyres
 Continental Tyres
 Good Year Tyres
 JK Tyres
MRF Tyres
 TVS Tyres