Automobile Spares & Accessories
Automotive After market
The automotive after market is the secondary market of the automotive industry, connected with the manufacturing, remanufacturing, distribution, retailing, and installation of all vehicle parts, lubricants, equipment, and accessories, after the sale of the automobile by the original equipment manufacturer (OEM) to the consumer. The parts, accessories, etc. for sale may or may not be manufactured by the OEM.
Spares
Whatever spare parts are fitted in vehicle and comes with a new vehicle, those are being sold in open market also.
Those spare parts are available in market can be from same manufacturer or from other companies also with same specification.
Always buy a genuine recommended spare parts on Bill for your vehicle.
There are several companies in this field called auto component manufacturers. Please see the section on main page.
They make components for your vehicle, for example component of engine, gear box, suspension, steering, clutch, electricals, brakes and so on….
Production Breakup  Two wheelers' is the largest domestic customer segment for the auto components industry.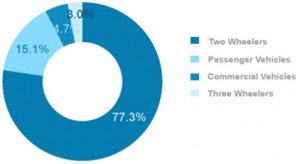 Production Breakup Engine parts account for 31 per cent of the entire product range of the auto components sector.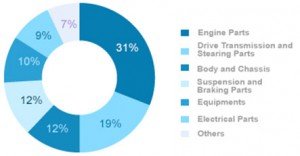 Automotive Accessories
Accessories are those add on which are used in vehicle for fun, comfort, style and added safety. Mainly accessories are Music system, GPS system, Upholstery (seat cover, steering cover, floor mats), Perfumes and Fresheners, chargers, guards, gear locks, power windows, central locks, Reverse parking system, Helmet, grippers for 2W handle bar, body graphics and so on.